EWON Cosy+ Ethernet
The function of the Cosy+ is to establish a secure VPN connection between your machine and yourself, wherever you are and whenever you want. The connection takes place via Talk2M, a highly secured Cloud-based remote connectivity service that is specifically intended for industrial solutions.
Thanks to Talk2M and M2Web, engineers can remotely access their PLC, HMI or other devices in the machine, for maintenance or monitoring, from anywhere in the world and from any device, even a smartphone. Cosy+ makes it possible to avoid unnecessary on-site visits and thereby save enormous amounts of time and money while providing a great long-term competitive advantage.
With built-in hardware security, the Cosy+ meets the highest IIoT security standards.
It has built-in Secure Element chip to protect communications and support strong encryption of all communications with Talk2M.
The Cosy+ offers a proven secure environment with ISO 27001 certification and cybersecurity partnership with NVISO in a solution based on the latest open standard technologies.
No subscription or software costs!
Every Cosy comes with a free account for the Talk2m Cloud environment. All information to create an account can be found in the box. The Talk2m servers are placed all over the world and guarantee you a perfect connection with machines up to China.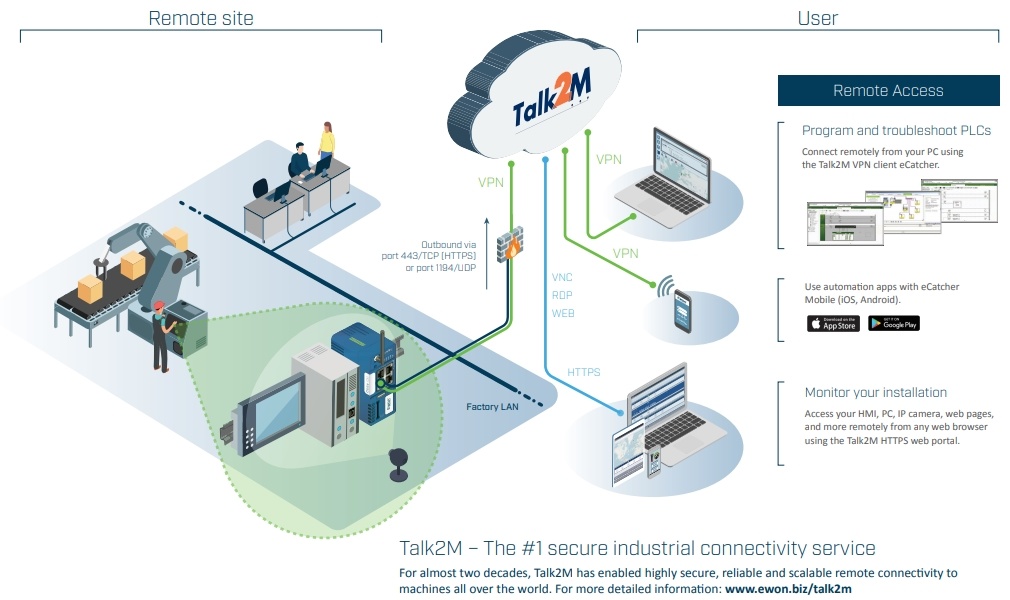 Cosy+ and Cosy 131 models
| | | | | | | | |
| --- | --- | --- | --- | --- | --- | --- | --- |
| Product | Order code | Ethernet WAN port | LAN ports | Modem | Digital input | Digital output | VPN + Talk2M |
| EWON COSY + Ethernet | EC71330 | yes | 4 X | - | 2x | 1x | yes |
Each Cosy router has 4 LAN ports for connecting peripherals, 2 digital inputs and 1 digital output. You will also receive a Talk2M / M2Web Free account. This account is suitable for one simultaneous eCatcher connection (VPN connection) and 5 simultaneous M2Web connections. You can add as many users as you want. There is also an unlimited number of COSY / Flexy units. A big advantage is that a plug'n route function has been implemented. This function makes it possible to connect to any Ethernet device without having to configure the gateway or shut down the machine.
Secure VPN connections
Our EWON Cosy uses a completely secure SSL-based VPN tunnel for data traffic. The information sent through these connections is encrypted. This makes it only possible to give authenticated users access to the EWON. With a VPN you can therefore always use the connection safely. It is not possible for the malicious person to eavesdrop on the internet traffic.